Dana Distributors
News, Events & Promotions
Alert Cab on call to take revelers home
By Heather Yakin
Times Herald-Record
GOSHEN — For the 29th year, Dana Distributors is picking up the tab for revelers who find they've had too much to drink on New Year's Eve and three other holidays via the Alert Cab program.
Dana, the local Anheiser-Busch distributor, has long participated in the beer giant's corporate responsibility programs, asking customers to drink responsibly.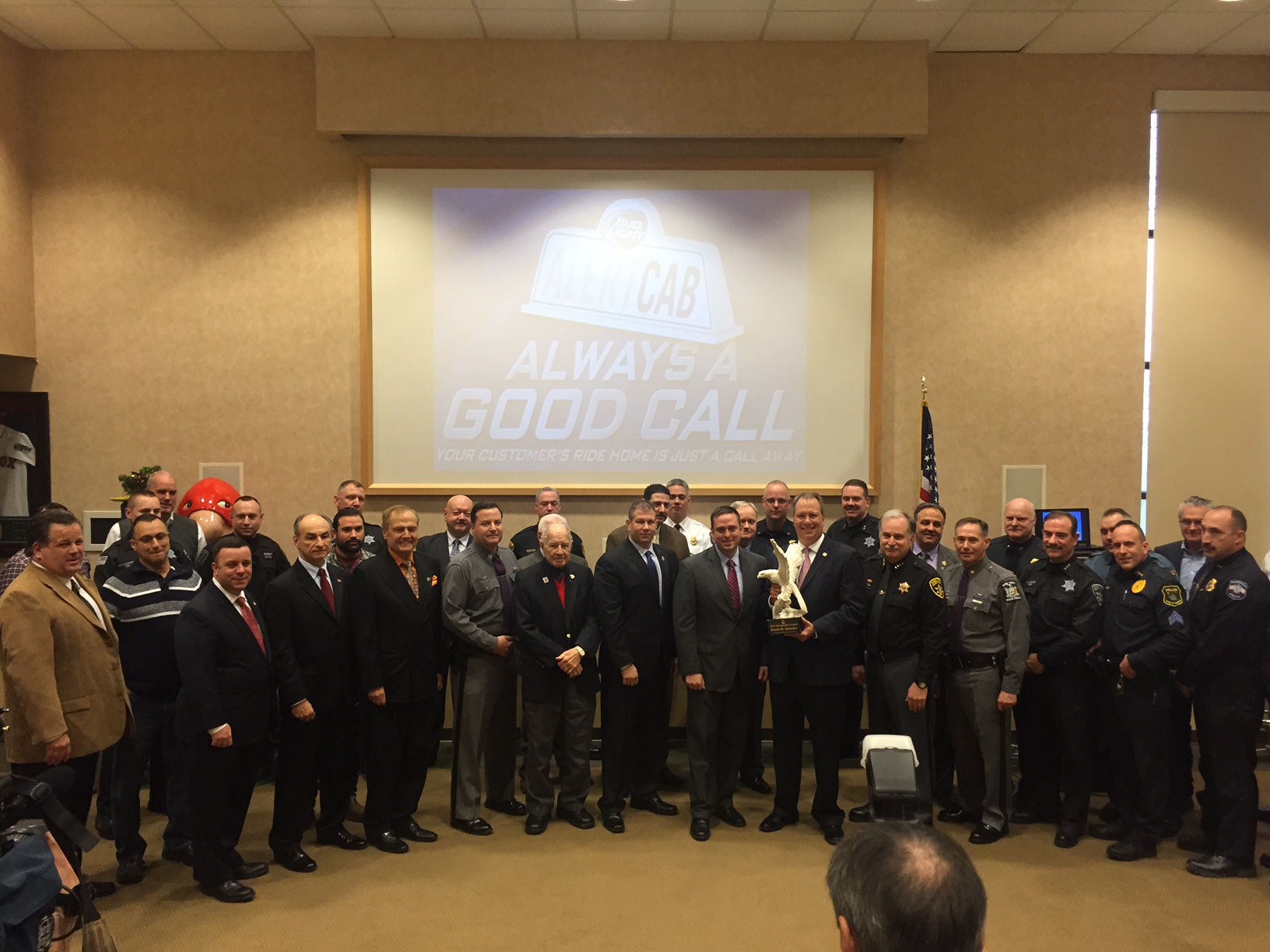 "Make the right choice," Dana Distributors President Fred Dana implored at a news conference Wednesday promoting the Alert Cab program. The room was packed with law enforcement and elected officials.
This year, Dana honored Orange County District Attorney David Hoovler for his enforcement of drunk-driving laws. Hoovler's policy includes a substance abuse screening for any DWI defendant who wants the benefit of a plea bargain.
Hoovler said that about 10 percent of first-time DWI offenders in Orange County need treatment. People can have a good time, Hoovler said, but they need to act responsibly. "
It all comes down to your choice," he said. "Take advantage of Alert Cab. Take advantage of a designated driver. If you make a mistake, we're going to prosecute you."
Police promised to be out in force on New Year's Eve. "And I'll tell you right now, I've got plenty of room over on Wells Farm Road," said Orange County Sheriff Carl DuBois, hooking a thumb in the direction of the jail.
"Tis the season to show people you care," said Tom Kennedy, Dana's general sales manager. "Use a designated driver, or use Alert Cab."
The program has provided 908 rides in Orange, Sullivan and Rockland counties over the past six years, Kennedy said. Dana provides the names and numbers of the participating taxi cab companies to the drinking establishments. If a customer needs to use Alert Cab, he or she simply asks a bartender to call. There are 20 cab companies and 710 establishments participating. The program runs on New Year's Eve, Super Bowl Sunday, St. Patrick's Day and Thanksgiving Eve. "If we save one life, we've done our job," Kennedy said. "There's no way that this hasn't prevented some serious injuries, and most likely deaths," said Sullivan County Sheriff Michael Schiff. —This email address is being protected from spambots. You need JavaScript enabled to view it.
Rules for using Alert Cab
■ You have to have driven yourself to the bar.
■ You have to go straight home.
■ You have to hand your keys over to the cabbie.
■ You must live within 10 miles of the establishment you're leaving.
Stay Informed
When you subscribe to the blog, we will send you an e-mail when there are new updates on the site so you wouldn't miss them.
">
This email address is being protected from spambots. You need JavaScript enabled to view it.
</a></p> <p><span style="font-size: 12.8px; line-height: 1.7;"><strong>Rules for using Alert Cab</strong> </span></p> <p><span style="font-size: 12.8px; line-height: 1.7;">■ You have to have driven yourself to the bar. </span></p> <p><span style="font-size: 12.8px; line-height: 1.7;">■ You have to go straight home. </span></p> <p><span style="font-size: 12.8px; line-height: 1.7;">■ You have to hand your keys over to the cabbie. </span></p> <p><span style="font-size: 12.8px; line-height: 1.7;">■ You must live within 10 miles of the establishment you're leaving.</span></p>", "author": { "@type": "Person", "name": "Super User", "image": "https://danadistributors.com/media/com_easyblog/images/avatars/author.png" }}