Dana Distributors
News, Events & Promotions
Goose Island - Bourbon County Stout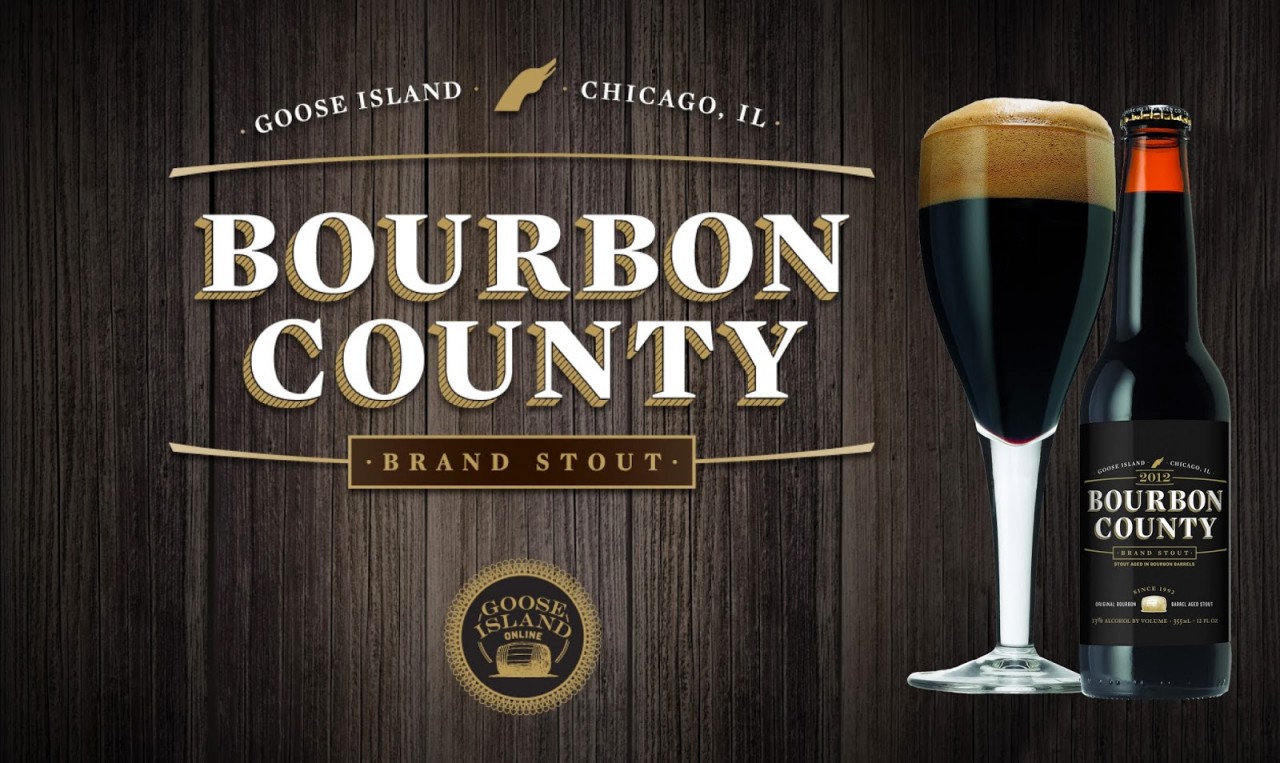 BREWER'S NOTES

Brewed in honor of the 1000th batch at our original Clybourn brewpub. A liquid as dark and dense as a black hole with thick foam the color of a bourbon barrel. The nose is an intense mix of charred oak, chocolate, vanilla, caramel and smoke. One sip has more flavor than your average case of beer.

RECIPE INFORMATION

Style: Imperial Stout Aged in Bourbon Barrels
Alcohol by Volume: 14.2%
International Bitterness Units: 60

Color: Midnight
Hops: Willamette
Malts: 2-Row, Munich, Chocolate, Caramel, Roast Barley, Debittered Black

SERVING SUGGESTION

Preferred Glass: Snifter
Food Pairings: Flourless Chocolate Cake

Cellaring Notes: Develops in the bottle for up to 5 years

AVAILABILITY

Limited Release


Bottles: 4 Pack

Draft: 1/6 bbl

RECOGNITION/AWARDS

World Beer Cup Awards:
2006: Gold – Wood & Barrel Aged beer
Great American Beer Festival:
1995: Strong Ale


by Matt Allyn - November 2014

Here's your reason to leave the house on Black Friday: Goose Island is releasing its revered Bourbon County Brand beers. The Chicago-based brewery has been brewing the potent, bourbon-barrel aged ales since 1992 — a lifetime ago for craft beer — and the flagship stout recently made our Best 100 Beers in the World list.

"At its first Great American Beer Festival, it was dismissed as too avant garde, too extravagant" says Mike Siegel, Goose Island's innovation manager. "Now practically every brewery in America has a bourbon-barrel beer."

What sets it apart the hundreds — maybe thousands — of other bourbon-aged ales is that every ingredient is chosen for how it will age in a bourbon barrel when most brewers simply age an existing stout. The result is rich, dense layering of flavors that intensify the common caramel, roast, and fruit from the beer and oak.

In recent years, the Bourbon County Brand has expanded to five beers. The imperial stout has coffee-infused and vanilla bean-rye barrel variants, an English barleywine, and the Chicago-only Proprietor's stout with additional spices.

"The variations are purely a way for our brewers to play with the flavors of bourbon and find new ways to push them out," says Siegel.

Regardless of the final product, the five Bourbon County beers undergo a fairly similar process. A total of 3,000 barrels from six distilleries — including Heaven Hill, Buffalo Trace, and Knob Creek — are filled over the course ten months. Siegel says because the brewing and barrel filling takes so long, brewing has to be spaced out over those months. The beer usually ages for a year, but never less than eight months, when it's then tasted and emptied — a three-month process for the legion of barrels.

"We're talking about a three-man crew emptying barrels nonstop over 50-hour weeks," says Siegel.

Though Goose Island recently opened a new warehouse for it's barrel-aging program, it keeps the Bourbon County barrels under a loose climate control, letting temperature changes open and close the pores of the oak, extracting more flavor, says Siegel.

"Most barrels take one of two paths," he says. "One is a very smooth beer that brings out the roasted and caramel notes from the stout and bourbon. The second is a beer that's slightly hotter and really gets into deep cherry and berry flavors in the wood. Both are desirable."

The two Bourbon County variations you're most likely to see at your local beer aisle in addition to the stout are the Bourbon County Barleywine and Bourbon County Stout Coffee. The barleywine — that's right, not a stout — grew out of King Henry, a special bourbon-barrel barleywine Goose Island created in 2010. The brewers saw it's potential in the Bourbon County family, folding it in last year. Also unlike the stouts, which all get fresh bourbon barrels, the 70 percent of the barleywine's barrel are second-use barrels that aged stout the prior year.

The coffee in the coffee stout doesn't enter the equation until the very end. Working with its neighbor, the world-class roaster Intelligentsia, Goose Island performs a blind cupping every year to pick its beans. For 2014, it's a single-estate Rwandan called Zirikana. Like everything else going into the beer, these beans are picked for how they amplify and complement with the bourbon and beer flavors.

Goose Island Bourbon County Brand beers are available in most states, and the brewery is sponsoring Black Friday release parties in Boston, Chicago, Dallas, Jacksonville, Los Angeles, New York City, Philadelphia, Phoenix, San Francisco. Four-packs will retail between $20-30. Visit gooseisland.com to find a bottle near you.
Stay Informed
When you subscribe to the blog, we will send you an e-mail when there are new updates on the site so you wouldn't miss them.